Please specify the quantity of product(s).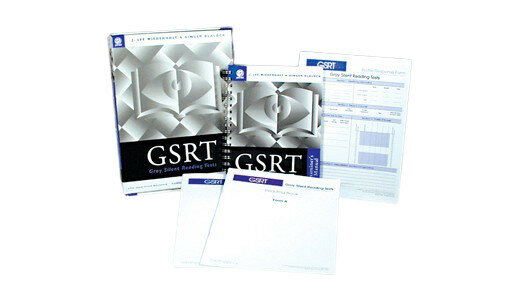 ITEM: 32858
Gray Silent Reading Tests (GSRT)
Gray Silent Reading Tests (GSRT) assess silent reading comprehension to provide services and assess for their impact
| Item | Product | Price | QTY |
| --- | --- | --- | --- |
| 32858 | Gray Silent Reading Tests, Kit (GSRT Kit) | $229.00 | |
| 32858A | GSRT Reading Book, Form A, Pk/10 | $53.00 | |
| 32858B | GSRT Reading Book, Form B, Pk/10 | $53.00 | |
| 32858M | GSRT Manual | $103.00 | |
| 32858R | GSRT Profile/Response Forms, Pk/25 | $38.00 | |
Gray Silent Reading Tests (GSRT) provide information about strengths and weaknesses in reading, allowing for identification of those who would benefit from reading intervention programs. Parallel forms allow for re-testing to assess progress
Quickly and efficiently assesses silent reading comprehension ability.
J. Lee Wiederholt, Ed. D. and Ginger Blalock, Ph. D.
Age Range: 7-25 years
Time: 15-20 minutes, individual or group administration
The GSRT identifies individuals who might need additional assessment and intervention to improve reading comprehension. It determines areas of relative strengths and weaknesses across reading comprehension, and is useful in documenting progress in reading intervention programs.
The GSRT consists of two parallel forms, each containing 13 developmentally sequenced reading passages with five multiple-choice questions. It is useful in elementary and secondary schools, clinics, reading centers and post-secondary settings.
The GSRT Kit includes the Manual, 25 Profile/Response Forms, and 10 each of Reading Book Forms A and B.