Please specify the quantity of product(s).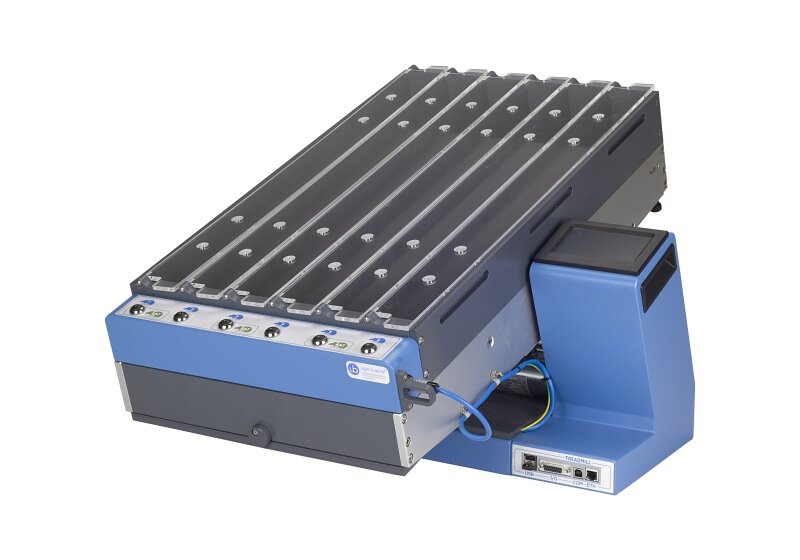 ITEM: 57630
Ugo Basile Treadmill
Adjustable speed, slope, mode and shock!
Physical activity or lack thereof has been linked to overall health and wellness. To study the impact of physical activity on health, Ugo Basile introduces the NEW Rat and Mouse Treadmill. Designed for use with both Rats and Mice, the Ugo Basile treadmill offers adjustable speed and slope in addition to contant, accelerating or custom modes. A shock grid is incorporated at the end of the lanes should an aversive stimulus be required.
Ugo Basile introduces an original TREADMILL for rats and mice. The same device is suitable for tests on either rats or mice, by simply replacing the lane assembly.
All controls and test results easily managed on the 4"3 touch-screen to set and monitor the test.
Speed can be selected from 3 to 100m/min, in steps of 1m/min, with constant, accelerating, custom ramps modes .
Our model incorporates a shock grid at the back of the treadmill to deliver a mild electric shock, when an aversive stimulus is required. Shock can be preset from 0 to 2mA (in 0.1mA steps)
The running-lane assembly can be manually tilted from -25° to +25°. A special lane-assembly for tethered mice is also available in alternative to the standard model.
The incorporated electronic circuit automatically detects speed & absolute and relative dinstances
X-PAD Software to set the experiment and manage the results is included free of charge.
Specs:
Speed 3 to 100m/min, in steps of 1m/min
Shock 0 to 2mA, 1, 2 or 3Hz
Slope from -25 to +25°
Physical
Universal input 85-264 VAC, 50/60Hz
Dimensions : 56(w)x67(d)x35(h)cm
Weight : Kg 22
Shipping Weight : Kg 35 (approx.)
Packing : wooden crate, 82x71x57cm