Please specify the quantity of product(s).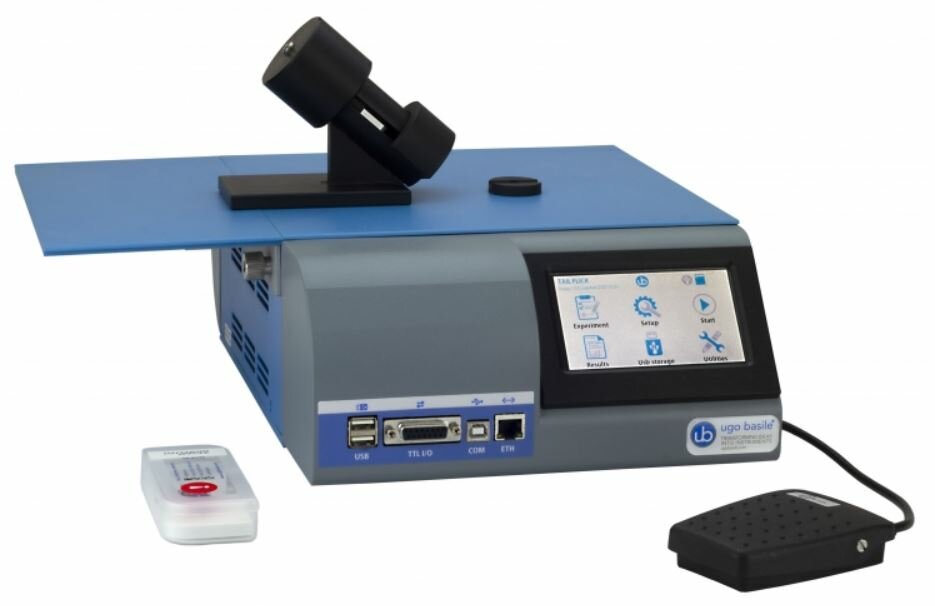 ITEM: 57360
Ugo Basile Tail Flick
Fast, sensitive screening of analgesic effects
Accurately measures the nociceptive threshold to infrared heat stimulus on the rat or mouse tail. Used for rapid precise screening of analgesic drugs by observing reaction to heat.
Adjustable I.R. intensity, bright touch screen display with intuitive controls. Comfortable surface for the animal. Latency and light intensity data are automatically saved. Easy start with foot pedal. Excellent reproducibility.
Background
Performs rapid precise screening of analgesic drugs via heat stimulation according to D'Amour & Smith method.
More than 3,000 citations of our Tail Flick unit in published papers.
Market leading device is the most used and validated worldwide.
Easy use, excellent reproducibility
Works by focusing radiant energy of adjustable intensity on the animal tail (using an embodied parabolic mirror).
Operator holds the animal on a comfortable, flat, unobstructed surface.
Optional inclined mouse restrained is available to ensure flat tail position on surface (to compensate for mouse tendency to hold tail upwards).
When the animal flicks its tail in response to the pain, the sensor detects it, stops the timer and switches off the bulb.
Reaction time (latency) and light intensity data are saved automatically to the unit, USB key (supplied) or "one-touch" export to your PC.
Features a bright graphical touch screen with intuitive controls for easy use.
Easy start, convenient foot pedal switch for excellent reproducibility.
Includes Xpad software.
| | |
| --- | --- |
| Start: | Via pedal switch or via start icon on the touch screen (or via TTL) |
| Stop: | Via pedal switch, start icon on the touch screen, cut-off (or via TTL) |
| Measurement mode | Manual (foot-switch) or automatic (fiber optic) |
| I.R. Intensity: | Adjustable in the interval 01-99 (in one digit steps) |
| Latency Time: | Displayed on the graphic display, in 0.1s steps |
| I.R. Bulb: | Halogen "Bellaphot", Mod. 64607 OSRAM, 8V-50W |
| Calibration: | via I.R. Radiometer (No. 57390, see above) |
| Power Requirement: | Universal input 100-240 VAC, 50-60Hz, 50W |
| Cut-off Function | Adjustable from 5 to 30 seconds |