Please specify the quantity of product(s).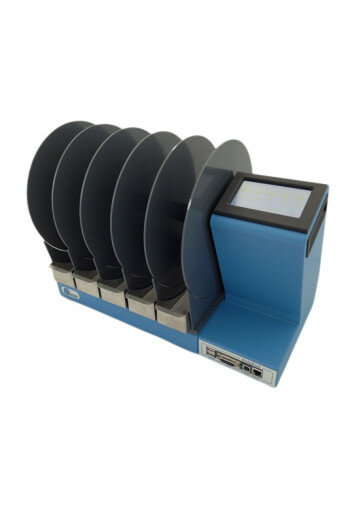 ITEM: 57624
Ugo Basile Rota-Rod
Assesses motor coordination, especially for drug screening or motor impairment studies.
| Item | Product | Price | QTY |
| --- | --- | --- | --- |
| 57624 | Ugo Basile Mouse Rota-Rod | Login | |
| 57625 | Ugo Basile Rat Rota-Rod | Login | |
| 57626 | Ugo Basile Combination Mouse and Rat Rota-Rod | Login | |
| 57624-2 | Mouse Rota-Rod Complex Wheel (30 bars) | Login | |
| 57624-3 | Mouse Rod enlarger (30 to 60mm, 5) original rod shape | Login | |
| 57624-4 | Mouse Rod enlarger (30 to 60mm, 5) smooth rubber | Login | |
| 57625-1 | Rat Rota-Rod Complex Wheel (22 bars) | Login | |
The first Rota-Rod was made commercially available from Ugo Basile many years ago. Since then, thousands of papers have been published and the "Rota-Rod" technique (originated by a 1957 paper of N.W Dunham and T.S Miya) has proved to be of great value in research involving screening of drugs which are potentially active on motory coordination.
Feature

Benefit

Speed adjustable in the range

3-80 RPM, in steps of 1 RPM

Useful in a variety of tests

Constant speed, ramp (accelerat­ing), multi-step ramp

Extreme versatility

New trip boxes

To enclose the animals, stainless-steel to ease sterilization

Embedded USB memory stick

Does not required connection to PC (software included) to store and transfer data

Brand new Software

user friendly, included as stan­dard, enables setting up the experiment and managing the results from PC or 4"3 touch-screen
Rota-Rod Complex Wheel

The complex wheel add-on for our Mouse Rota-Rod (57624-2) and Rat Rota-Rod (57625-1) introduce an additional complexity element for the animal
to be tested.
This Rota-Rod accessory was developed in conjunction with Prof. Bellesi from the University of Camerino (Italy). The complex wheel is designed in a way that the animal does not have a uniform surface to walk on but rather a number of horizontal bars (rungs) that can be increased in number and positioned in a symmetrical or uneven position to vary the test complexity.
The objective of the complex wheel and what the first publications show is that sensitivity of the test is increased, allowing to detect even the smallest alterations in
motor deficits.
The test has been developed for rats (57625-1) but a version for mice (57624-2) is also available and in course of validation.
Complex Wheel Add-On for Rat (57625-1)
Rat Rota-Rod (57625) with Complex Wheel Add On (57625-1)
Rota-Rod enlargers
Rota-Rod enlargers change the diameter and texture of the drum. Two Models are available. Both increase the diameter of the Mouse Rota-Rod from 30mm to 60mm
51624-3: Increases the Rod diameter from 30mm to 60mm (5 pieces). Maintains the original rod shape grooves - Only available for the Mouse Rota-Rod (57624)
51624-4: Increases the Rod diameter from 30mm to 60mm (5 pieces). Covered with smooth rubber - Only available for the Mouse Rota-Rod (57624)
Background
Current model is the result of over 50 years of expertise and product reliability. After building and naming the original commercial RotaRod, we have retained a strong leadership position through continuous improvement and innovation.
Assesses motor coordination by the duration (latency) that a mouse stays on the rod as a function of drum speed.
Range from 3 to 80 RPM ideal for drug screening to assess any side effects on motor coordination including balance and fatigue.
Slower speeds suited to motor neuron disease or brain injury studies.
More than 5000 citations of our RotaRod models in published papers.
Easy use, easy care, precision data
Easy to operate and monitor experiments using touchscreen.
Software included with every RotaRod enables protocols to be defined in advance. This can be uploaded to the RotaRod for accuracy, efficiency and repeatability. Avoids making any data entry errors during the experiment runtime.
Records time the mouse stays on the rotating rod as well as time (latency) of fall. Select and customize speeds (from 3 - 80 RPM in steps of 1 RPM), acceleration and deceleration steps.
Records fall time latency for up to 5 mice simultaneously. Section width is a comfortable 5.7cm. Low fall height is 16cm allowing a soft landing into an individual box, preventing any harm to the mouse.
Machined cylinders provide horizontal ridges for sufficient grip.
Saves experimental settings with recorded values. Customizable layout with drag and drop columns. Presents results in a convenient tree-like structure. Enables users to add information before or after each test. Export settings and recorded data as text, spreadsheet or pdf files.
Enables remote diagnosis and internet access – data can be saved to the cloud via Dropbox, OneDrive, Google Drive etc.
Surprisingly quiet operation for reduced stress.
Removable stainless-steel boxes facilitate cleaning and prevent mice from escaping when they fall from the rod.
| | |
| --- | --- |
| Speed | Adjustable in the range 3-80 RPM, in steps of 1 RPM |
| Mode | Forward rotation, Reverse rotation, Ramp (Increasing RPM), Alternated Rotation, Personalized |
| Start/Stop | From the touch-screen |
| Detection | Magnetic sensor |
| Results | Time Elapsed, Revolutions, Distance, Speed, Mode for each lane |
| Data Acquisition | Via dedicated X-PAD software or .cvs file for PC. |
| Data Portability | By USB flash drive |
| TTL Output | Plate Status, Rotating Direction, Speed |
| Data Out | exported to .cvs |
| Data In | exported to .cvs, protocol, ramp |
| Power Requirement | Universal input 100-240 VAC, 50-60Hz, 40W max. |