Please specify the quantity of product(s).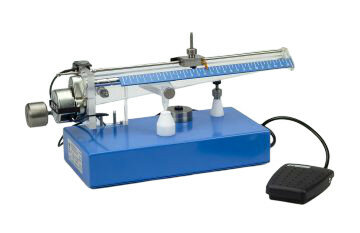 ITEM: 57215
Ugo Basile Paw Pressure
A rapid and sensitive screening of analgesic and anti-inflammatory drug
| Item | Product | Price | QTY |
| --- | --- | --- | --- |
| 57215 | Ugo Basile Paw Pressure Analgesia Meter, Rat | Login | |
| 57216 | Ugo Basile Paw Pressure Analgesia Meter, Mouse | Login | |
| 57222 | Ugo Basile Paw Pressure Analgesia Meter, Rat Recording | Login | |
| 57223 | Ugo Basile Paw Pressure Analgesia Meter, Mouse, Recording | Login | |
| 57206 | Ugo Basile Extra Disc Weight | Login | |
The 57215 Analgesy-meter is the classic device to perform Paw Pressure experiments according to the method of Randall-Selitto. The force is applied to the animal's paw, which is placed on a small plinth under a cone-shaped pusher with a rounded tip, which does not hurt the animal. The operator depresses a pedal-switch to start the mechanism which exerts the force; when the rat struggles, the operator releases the pedal and reads off the scale the force at which the animal felt pain. Additional weights are provided, to increase the force range.
For rapid precise screening of analgesic drugs
The Paw Pressure Analgesia Instrument is for the Randall-Selitto test, which requires the application of increasing pressure on the paw between a flat surface and a blunt pointer. It is usually used with animals with one paw inflamed by an injection, and one normal paw, to evaluate drugs for analgesic action.
Principle of Operation
The device exerts a steadily increasing force (16 grams per second) on the rat paw until the animal makes a stereotyped flinch response. The researcher releases a foot pedal to stop the force indicator. The electronics measures the time interval between the start of the slide motion and the moment the slide is stopped by the operator and converts time into force.
The force is measured on the scale calibrated in 10-gram steps, by a pointer riveted to the slide. The scale can be multiplied by 2 or 3, by placing one or two disc weights on the slide.
Digital readout now available
The classic Analgesy-Meter can now be integrated with a specific pressure sensor and the related controller, available as optional, which upgrades the Analgesy-Meter to a fully digital device.As the basic design is unchanged, results with the digital model are consistent with published data.The design of the upgrade kit makes it easy to retrofit existing UB Analgesy-Meters as well.
Force Ranges
| | |
| --- | --- |
| 57215 (Rat) | 0 to 250, 500, 750 grams |
| 57216 (Mouse) | 0 to 125, 250, 375 grams |
| | |
| --- | --- |
| Shipping Wt.: | 11 lbs. (5 kg) |
| Dimensions (cm): | 40 x 16 x 14 |
| Power Requirements: | 115 or 230V, 50/60 Hz |