Please specify the quantity of product(s).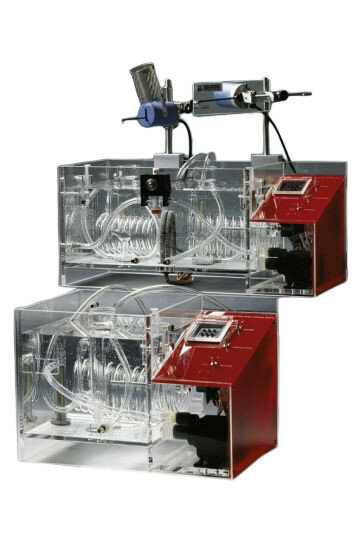 ITEM: 54400
Ugo Basile Organ Baths
Recording of Isometric or Isotonic Tissue Contraction/Release
Isolated Organ Baths have been designed for accurate recording of isometric or isotonic tissue contraction/release. Available as 1,2, or 4-channel turn-key systems. Used in classic Pharmacology research and teaching worldwide since 1960s!
Research involving effects of electrical stimuli or drugs on isolated smooth muscles, uterus, trachea, vessel strips, auricle, etc. can be performed under optimum conditions.
Wash or test solution enters chamber after passing through the temperature equilibrating coils and the syringe valve. The tissue in the chamber is washed by flushing the chamber through an overflow drain tube, to avoid exposing the tissue to the air. Water stirring is accomplished by a water jet delivered by a centrifugal pump.
A 200W stainless steel heating element is mounted on the Perspex tank floor. A precise solid state "proportional" thermostat maintains the temperature within the excellent limits of +/- 0.1ºC on all models.
Temperature: 25-45 (degree C) in 0.1 (degree C) steps
Setting: via arrow keys
Temperature Precision: +/- 0.1 (degree C)
Power Requirements: 115 or 230V, 50/60 Hz, 250 Watt max (54000/54050), 400 VA max for 54400
Sound Level: <70 dB
54000
Dimensions: 32x20x22cm
Weight: 4kg
Shipping Weight: 10.5kg
Packing 67x42x53cm
54050
Dimensions: 47x20x22cm
Weight: 6.5kg
Shipping Weight: 11.5kg
Packing: 80x60x44cm
54400
Dimensions: 47x29x22cm
Weight: 9kg
Shipping Weight: 16.5kg
Packing: 80x60x44cm