Please specify the quantity of product(s).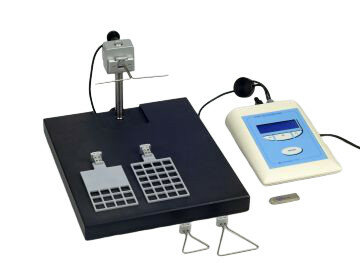 ITEM: 57107
Ugo Basile Grip Strength
Automatically measure grip-strength of fore and hindlimbs in rats and mice
Automatically measures grip-strength of forelimb, hindlimb, or all four limbs, in rats and mice as they instinctively resist backwards movement. For assessing the effects of substances (drugs, toxins, muscle relaxants) and conditions (disease, ageing, neural damage) on muscle strength.
When pulled by the tail, rodents instinctively grab anything they can, to try to stop this involuntary backward movement, until the pulling force overcomes their grip strength. when positioned in front of the GSM bar, or trapeze, or grid, the animal grasps at it.
After the animal loses its grip on the grasping bar, the peak amplifier automatically records and stores the peak pull-force achieved by the limbs and shows it on the display.
Background
To stop an involuntary backward movement, the animal instinctively grabs the grasping bar when pulled backwards by the tail.
Placement of animal over a base plate, in front of a grasping bar. Height is adjustable.
Automated detection, standalone or PC-based
Automatically stores and displays the peak pull-force (peak tension) achieved by the limbs before the animal loses its grip.
Reliable and automated detection of the animal response using peak detector.
Verification that desired force is applied at a consistent rate using Slope feature.
Quality control software tool shows the applied pulling force, the desired target force rate, and the peak detection in real time.
Integrated force sensor and peak amplifier for precision measurements. Maximum applicable force of 1500g, with a resolution 0.1g.
The device can be used as a standalone or connected to a PC via the USB port, for monitoring and data recording.
Control unit with internal memory for saving and viewing data. Quick data transfer in Excel (.csv) or text (.txt) format for further analysis.
No calibration required for normal use. (Proprietary memory chip stores calibration parameters.) Software prompt to auto-zero before making new measurements.
The meter is provided complete with a set of 3 grasping tools and 2 grids. An optional large metal grid is available for rats or mice.
Includes DCA software for signal monitoring.
| | |
| --- | --- |
| Commands | via soft-buttons |
| Read-out | multifunction graphic display |
| Start | Automatic when force applies to the instrument |
| Stop | Automatic or by pedal |
| Force Ranges | 0-100gf, 0-500gf, 0-1500gf |
| Force Increasing Rate | Monitored via GSM Electronic Unit or via the DCA3 Software on the PC |
| Force Response | in 0.1gf steps |
| Latency Time | in 0.1s steps |
| Connection to PC | via USB cable (A to mini-B) and GSM software |
| Power Requirement | Either battery operated, via USB cable connected to PC, included power supply (100-240 VAC, 50-60Hz) |
| Operating Temperature | 10° to 40° C |