Please specify the quantity of product(s).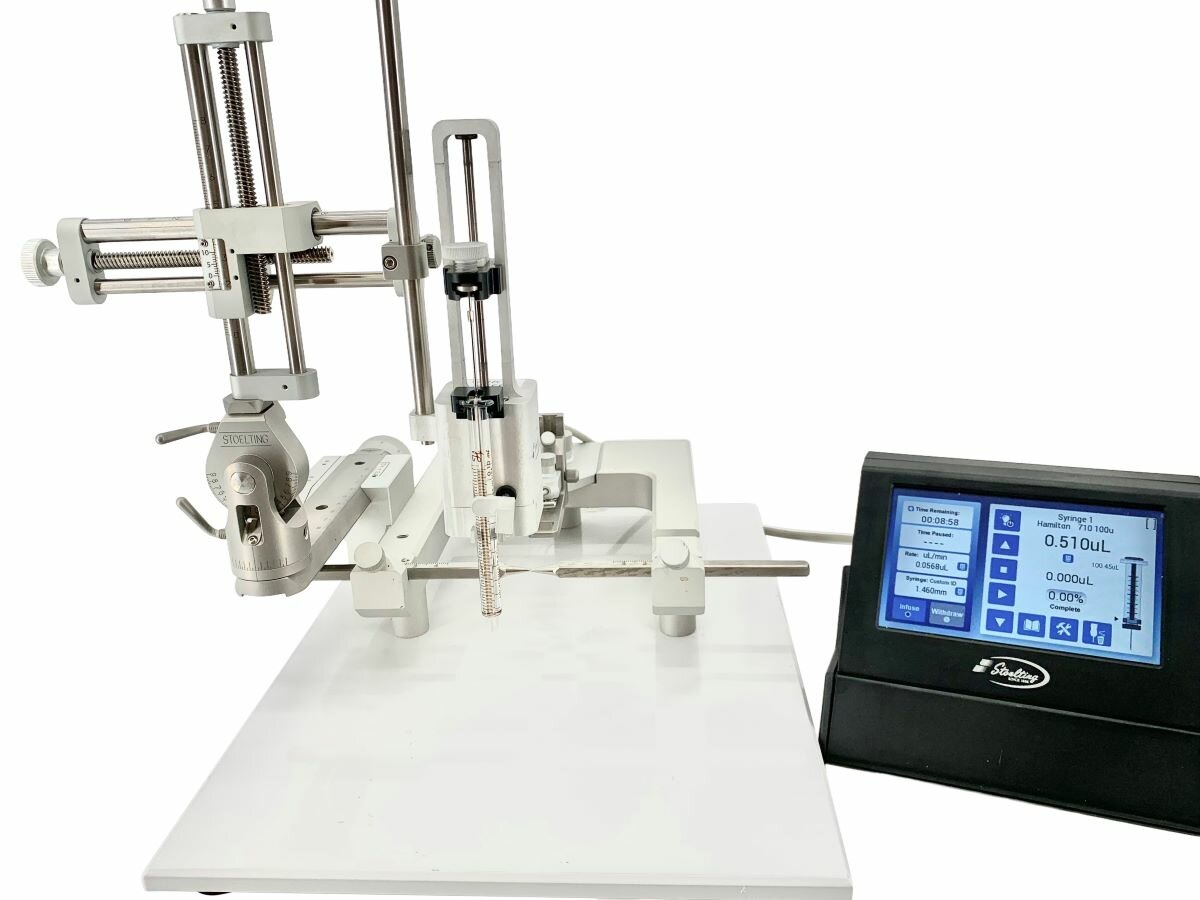 ITEM: 53311
Stoelting Quintessential Stereotaxic Injector (QSI™)
Infusion and/or withdrawal of volumes as small as 1 nanoliter using one or two injector heads
The classic Quintessential Stereotaxic Injector (QSI™) sets the standard for automated injection providing versatility and control.
*STEREOTAXIC SOLD SEPARATELY
The Standard for Versatility and Control
Control one or two independent injections with Stoelting's latest QSI™ Stereotaxic Injector. Automatic infusion or withdrawal of nL-µL volumes. Program injection parameters (volume, rate and syringe specifications) using the easy-to-use touch screen control box. Accommodates Hamilton syringes sized 0.5uL-250uL. Available as a single or dual injector. If purchased as a single injector, add a second injector at any time.
QSI™ Features
Easy-to-use Touch Screen Control Box
Control Single or Dual Injections
Preprogrammed Syringe Specifications
Out-of-range Warnings
Shipping Dimensions: 15 x 9 x 6 in, 5lbs
For Infusion and Withdrawal of Pico and Nanoliter Volumes
Stoelting's QSI™ (Quintessential Stereotaxic Injector) establishes a new standard of versatility and control. Only the QSI™ Injector enables the researcher to set volumes as small as 1 nanoliter and flow rates from 0.001µl/min to 363µl/min. It works with syringes from 0.5ul up to 250µl.
The QSI™ stereotaxic injector allows accurate control of the volume and flow rate of injections without wasting precious fluids in excessively long tubing. The fluid goes directly through a needle on the syringe, mounted directly on most stereotaxic instruments.
Library of Syringes
The QSI™ contains a library of common syringes and plunger diameters, so the user may simply scroll the list to select the desired syringe. Because of the Quintessential Stereotaxic Injector's unique design, it can be attached to any micromanipulator and accommodates practically any make of syringe.
Touch Screen Controller
The touch screen controller is a microprocessor-based controller that facilitates operation with an easy-to-use display. A help menu is included to make infusion and withdrawal easier than ever.