Please specify the quantity of product(s).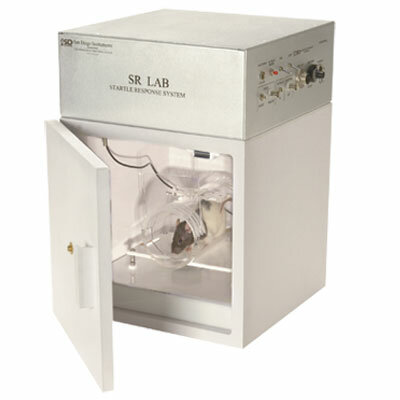 ITEM: 59800
Startle Response
The most widely used startle response system on the market
| Item | Product | Price | QTY |
| --- | --- | --- | --- |
| 59800 | Startle Response (SR-LAB) System | Login | |
| 59802 | Startle Response (SR-LAB) System, Additional Unit | Login | |
| 59817 | SR-LAB Software, FDA Part 11 Compliance | Login | |
| 59806 | Standardization Unit for Multiple Test Station Systems | Login | |
| 59800V | Startle Response (SR-LAB) System, 220 Volt | Login | |
SR-LAB™ startle response system is your best choice for startle reflex testing. The system's design ensures accurate results for all paradigms. You will not be limited by the software to any specific paradigms, either—it supports any paradigm while ensuring your data is saved in a single-file for easy retrieval and export.
The World's Most Widely Used Startle System
Easy to use with straightforward assembly and menu-driven software
Expands to include 16 test stations
Use in all startle paradigms including startle habituation, pre-pulse, and cross modal inhibition
Standardized test cabinets


The basic Startle Reflex hardware and Microsoft Windows based software give you complete control over startle paradigms. Virtually any combination of tones, noise bursts, lights, air puffs, background noise and foot shock options are controllable.
The Startle Reflex System supports up to 16 test stations. The test cabinets allow full and unobtrusive observation of the test animals. Data collected are completely secure and recorded in a non-editable form.
SR-LAB Components The basic system components include:
Test cabinet in composite ABS plastic
Animal enclosure in choice of standard sizes
Power Supply
Input and Output cables
Software and User Manual
Software utilities for data analysis
Animal Enclosures
Animal enclosures are designed to locate the subject without using restraint. The enclosure monitors movements with an ultra-stable, hermetically sealed motion sensor using new USB 16 bit resolution board (a range from zero to over 10,000 millivolts. A 16 bit board diveds 10,000 mV by 65536 discrete numbers. Thus, 10,000/65536 = 0.15 MV and now you get a new data point with just a 0.15 mV change) for measuring startle responses. All enclosures are adjustable in length and made of transparent acrylic for easy cleaning and convenient observation.
Small Animal Enclosure – 3 1⁄2" (L) x 1.1" (ID) Up to ~25g
Small/Medium Animal Enclosure – 5" (L) x 1 1⁄2" (ID) Up to ~50g
Medium Animal Enclosure – 6" (L) x 2 1⁄4" (ID) Up to ~150g
Large Animal Enclosure – 8" (L) x 3 1⁄2" (ID) Up to ~450g
X-Large Animal Enclosure- 10″ (L) x 5″ (ID) Up to ~800g
Software Features
The SR-Lab Software helps you plan, execute and manage data in your startle reflex testing sessions. Users can define trial definitions and session definitions with a user friendly interface. Test progress can be displayed with summary numeric data and response waveforms. After the session has ended, the complete waveform can be reviewed, and data may be refined via settable parameters including Baseline, Onset Window Start, End Analysis, and Onset criterion. The software stores all data in a database for easy exporting to Microsoft© Excel and/or statistical software programs.
| | | |
| --- | --- | --- |
| | ABS Cabinet | Control Box |
| Dimensions: | 15" x 14" x 18" | 16" x 14" x 5.75" |
| Weight: | 24 lbs. | 6 lbs. |