Please specify the quantity of product(s).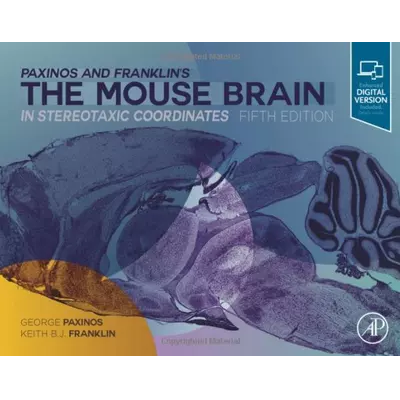 ITEM: 45044
MOUSE BRAIN IN STEREOTAXIC COORDINATES
The only stereotaxic atlas in print to depict the mouse brain
Key Features (5th Ed)
100 thoroughly revised coronal diagrams and accompanying photographic plates spaced at approximately 120 µm intervals
32 thoroughly revised sagittal diagrams and accompanying photographic plates
30 thoroughly revised horizontal diagrams and accompanying photographic plates
Photographic plates printed from high-resolution digital images in color
The most accurate and virtually universally used stereotaxic coordinate system
Over 800 structures identified Includes the Expert Consult eBook version, compatible with PC, Mac, and most mobile devices and eReaders, which allows readers to browse, search, and interact with content
Contents
Preface
Acknowledgements
Key Features of the Fourth Edition
Introduction
Methods
Histology
Preparation of Images and Drawings
Coronal, Sagittal, Horizontal Planes, and an Example
Nomenclature and Abbreviations
The Basis of Delineation of Structures
References
Index of Structures
Index of Abbreviations
Figures
Description
The Mouse Brain in Stereotaxic Coordinates is the most widely used and cited atlas of the mouse brain in print. It provides researchers and students with both accurate stereotaxic coordinates for laboratory use, and detailed delineations and indexing of structures for reference.
No. of pages: 375
Language: English
Copyright: © Academic Press

2019
Published: 16th May 2019
Imprint: Academic Press