Please specify the quantity of product(s).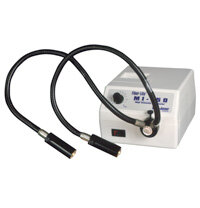 ITEM: 59259
Dual Gooseneck Illuminators
Dual-Pipe Fiber Optic allows the researcher to supply light from both sides to eliminate shadows
A rugged, convection-cooled enclosures results in no noise or vibration. Units deliver over 10,000 foot candles of intense, cold illumination. Easy lamp changes and a lifetime warranty round out these hardworking illumination.The Dual-Pipe Fiber Optic allows the researcher to supply light from both sides, to eliminate shadows and mounts directly without adaptors.
59259 Features
UL, CE, and C-UL approved for global use
All Fiber-Lite Illuminators are backed with a 3 year warranty
The 59259 comes with the popular Dual-Pipe Fiber Optic attachment. The Dual-Pipe Fiber Optic allows the researcher to supply light from both sides, to eliminate shadows and mounts directly on the 150 watt illuminator, without adaptors. The keyed output port prevents rotation or wobbling of the fiber optic assembly. Pipes may be positioned on the same side, for greater intensity. Each pipe is 23" long.
Illuminators
This unit offers safe and hassle-free operation and mates securely with standard MI-Series microscopy light guides, eliminating adapters. The MI-150 delivers 350,000 foot candles of high-intensity, cold light illumination when coupled with any of our fiber optic light guides. Standard MI-150 provides a lamp life of over 200 hours at full intensity. This unit is available separately or as part of a complete fiber optic illumination system.
Dual Branch Bifurcated Fiber Optic Light Guides bifurcated light guides are made from .55N.A borosilica glass fibers with standard end tips that will easily adapt to Fiber-Lite Illuminators. They are covered with a standard PVC covered mono-coil sheathing and have temperature ratings of -40 to 225 degrees Fahrenheit. They are available in varying lengths and diameters to suit your specific needs. If you are unable to find the fiber optic light guide to suit your needs please contact us as not all products are shown on website or check out our custom fiber optic capabilities.
Gooseneck Light Guides
Ideal for applications that require a flexible light source, this unit features single or dual gooseneck illuminators that allow the user to position the light source at designed angles. Gooseneck light guides are self supporting, durable and adjustable and provide light in the area where needed without additional stands or accessories. Gooseneck light guides come in both single and bifurcated configurations. They are available in multiple sizes and in custom configurations.
---
59254 Coolight Illuminator, LED, DualGooseneck
Advantages vs. halogen and metal halide lamps
long life
energy efficient
true "cool light" source
interchangeable fiber optic interface adapter
smaller package
minimal color temperature variation when dimmed and over lifetime
fast warm-up and output stabilization
no high voltage power supply
Why This Matters
Long life >25,000 hours saves money. A typical 150W EKE halogen bulb will require 125 replacements before the LED fiber illuminator reaches 70% of its original light output. At $27.50 *125 the cost for replacement lamps is $3,438.00
Long life LED sources are environmentally responsible.Helps keep waste out of landfills.
Energy use is just one-third that of a 150W halogen.
Halogen lamps turn yellow when aged and when dimmed.LED's provide consistent color temperature throughout their lifetime.
LED's have almost no infrared energy—they are truly a cool light source.A 150W halogen lamp operates between 260°F - 340°F (126°C – 171°C). Halogens can burn plastic fibers and fingers. LEDs are cooler and safer.
Halogen lamps transmit IR heat that can damage a sample / specimen.
Halogen lamps require costly IR filters that have to be replaced over time.
Complete 59254 system includes:
high intensity LED light engine optimized for fiber optic use
power stabilized, electronic LED driver
variable, manual intensity control
universal power supply for 100/240 VAC, 50/60 Hz
front panel illuminated on-off switch
stackable enclosure with integrated molded handle
fiber interface adapters available for large and small diameter fiber optic light guides
Built-in, low noise cooling fan
Power cord sets for North America, Europe or UK
59524 Specs
| | |
| --- | --- |
| Flux from fiber optic output | 470 lumens |
| Flux from fiber optic output** | 650 lumens |
| Flux delivered into fiber optic *** | 780 lumens |
| CRI (color rendering index) | 70 |
| CCT (correlated color temperature) | 6,000 K typical |
* Coupled into 5 mm fiber optic bundle of NA = 0.6
** Coupled into 8 mm fiber optic bundle of NA = 0.6
*** Calculated based on fiber optic throughput of 60%
Fiber optics with an active area of 3 mm—10 mm can be used with the LMI-6000; however, output flux will vary based on fiber diameter. Mechanically accommodates ferrules up to 25 mm outer diameter.