Please specify the quantity of product(s).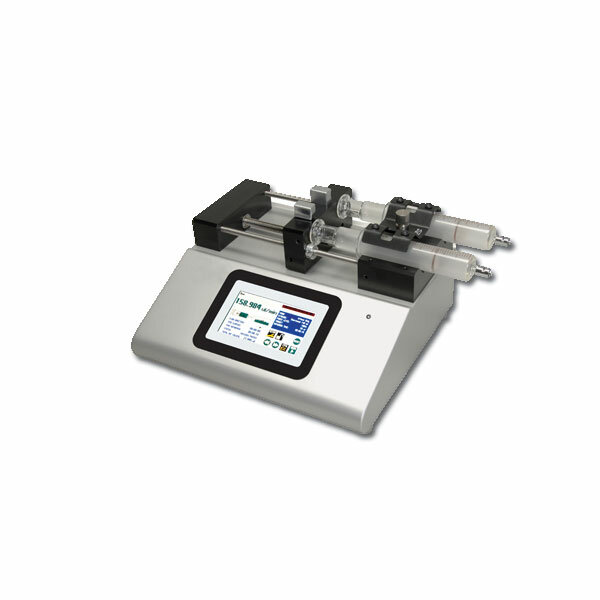 ITEM: 53200L
Touch Screen 2 Syringe Infusion Pump
Control total infusion volume using definable flow rates with selectable target volume
| Item | Product | Price | QTY |
| --- | --- | --- | --- |
| 53200L | Dual Syringe Pump, Infusion Only, Legato 0.5ul-140mL | Login | |
The unique Legato Series offers unparalleled ease of use through the high resolution touch-screen user interface. This new level of simplicity is combined with advanced fluidic performance to give you the highest level of smooth flow, accuracy and precision to meet all your application needs including drug discovery, nanofluidics, mass spectrometry and more. The Legato series of syringe pumps are available as Infuse Only, Infusion/Withdrawl and Push/Pull Syringe Pumps.
Infuse only dual syringe pump. Accomodates 2 syringes. User definable flow rates with selectable target volume or time values to control the total infusion volume.
Features:
Holds one or two syringes from 0.5ul to 140ml
High resolution color touch screen
Real time clock
Unparallel ease of use
Touch pad "lock" feature
LED light on front panel
Full metal chassis
Built in syringe table
Up to 75 lbs linear force
Advanced microstepping techniques
Built in RS485 interface
USB port
I/O & TTL interface
Continuous mode of operation
Spill dam
Legendary Reliability
Our experience in pumps and fluidics was used to create the Legato 200 Series. Over the years, customers had asked to display more information simultaneously and make it easier to configure and run complicated multi-step programs. The high resolution touch screen interface offers unparalleled ease of use. Today's demanding applications require better flow performance and repeatability down to 1 nl/hr. Legato offers 0.35% accuracy and 0.5% repeatability.
Designed to meet today's challenges
In today's economic environment, multiple users with different experiments are using the same pump. The next generation of pump had to meet this demand to store and recall multiple programs. The pumps role in the experiment now changes more readily with multiple users and multiple tests being done using a single pump.
Global regulatory compliance
Worldwide use of our pumps and changing regulatory compliance meant designing the pump to meet RoHS and WEEE, CE, UL, CSA, and CB schemes. The Legato has lead free boards and is designed to the latest safety and EMI/RFI standards.
Accuracy:
Reproducibility
Syringes (Min/Max)
Flow Rate:

Minimum (0.5 ul syringe): 5pl/min
Maximum (140ml syringe): 220.97 ml/min

Display

4.3 WQVGA TFT Color Display with Touchpad

Non-Volatile Memory
Connectors:

RS232 - 9Pin D-Sub Connector
RS485 - IEEE-1394 6 pos
USB - Type B
I/O & TTL - 15 pin D-Sub Connector

Linear Force (Max)

34 kg (75 lbs) @ 100% Force Selection

Drive Motor
Motor Drive Control

Microprocessor with 1/16 microstepping

Number of Microsteps
per one rev.of Lead Screw
Step Rate - Minimum
Step Rate - Maximum
Pusher Travel Rate - Minimum
Pusher Travel Rate - Maximum
Power

100-240 VAC: 50/60 Hz, 50 W, 0.5 A fuse

Dimensions

8.89 x 25.4 x 27.94 cm (3.5 x 10 x 11 in)

Weight
Operating Temperature

4 degree'C to 40 degree C (40 degree F to 104 degree F)

Storage Temperature

-10 degreeC to 70 degree C (14 degree F to 158 degree F)

Humidity

20% to 80% RH non condensing

Mode of Operation
Classification
Pollution Degree
Installation Category
Regulatory Certification

CE, UL, CSA, CB Scheme, EU RoHS